All members comprising the Board of Directors and the decision-making bodies at General Bank of Mauritania meet and comply with the legal provisions and best practices of the banking sector.  
GBM pays particular attention to the balance of responsibilities and power separation, in order to maintain an informed control of managerial decisions taken by the competent bodies, in the interest of this bank and in compliance with the prudential rules enacted by the Central Bank of Mauritania, the Basel Committee and the legislator. 
General Bank of Mauritania's shareholding consists of: 

THE GBM BOARD OF DIRECTORS COMPRISES:
Administrators : 
THE ORGANIZATIONAL CHART OF GBM READS AS FOLLOWS: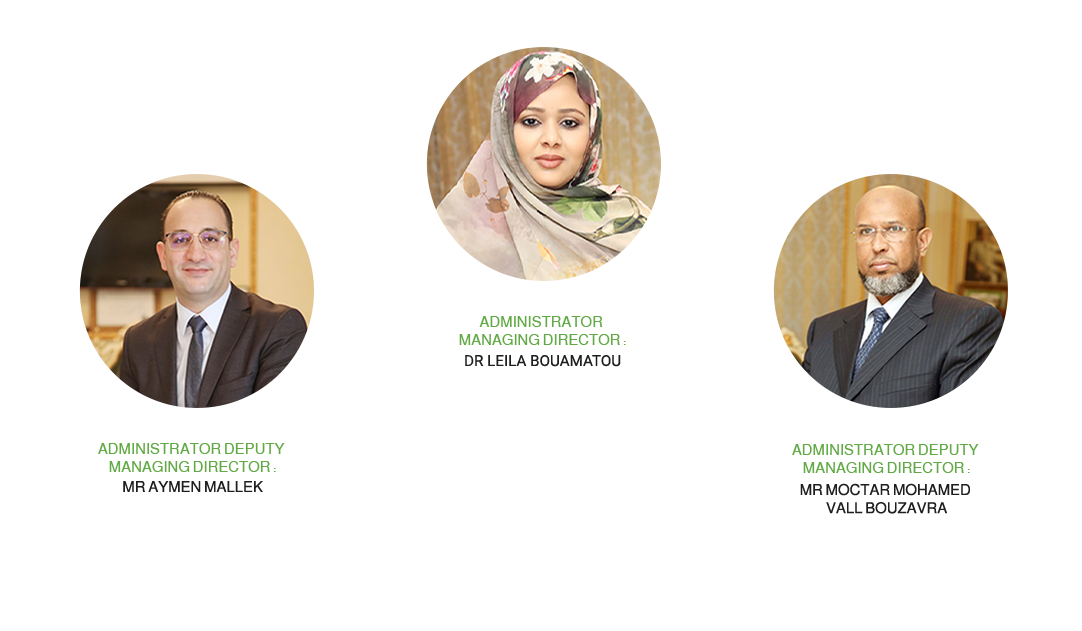 Key Executives :
OUR VALUES 
Within the scope of its mission to serve clients and economic actors operating in Mauritania, GBM draws on fundamental values shared by its internal staff and promoted among its various partners.
Professionalism: For each transaction, respect the code of practice, the customer and the employees.
Skill: Recruit and train the most experienced profiles for each position on an ongoing basis.
Availability: Support the customer in every situation, right from the moment their needs are expressed until they are met.
Integrity: On a day-to-day basis, distinguish the professional from the private and uphold ethics and regulations.
Loyalty: In relations with customers, third parties and employees, ensure that commitments are always respected.
Humility: Generally speaking, active listening is the best way to identify client needs and find appropriate solutions. 
MANAGEMENT COMMITTEES
Executive committee
COLLECTION COMMITTEE
TREASURY COMMITTEE
CREDIT COMMITTEE
I .S. COMMITTEE
Charia Board
DR LEILA BOUAMATOU

-

MR MOCTAR MOHAMED VALL BOUAZAVRA

-

MR AYMEN MALLEK

-

DR LEILA BOUAMATOU

-

MR AYMEN MALLEK

-

MR HAIBA LEKHAL

-

Mr Ahmed Salem Moctar Salem

-

DR LEILA BOUAMATOU

-

MR AYMEN MALLEK

-

MRS MINTATA CHARGHY

-

DR LEILA BOUAMATOU

-

MR MOCTAR MOHAMED VALL BOUAZAVRA

-

MR AYMEN MALLEK

-

MR SIDI BELLAHI

-

DR LEILA BOUAMATOU

-

MR AYMEN MALLEK

-

MR PAPE MENDIR GUEYE

-

MR NACER DINE ABDEL VETTAH

-

Mr Mohameden Hemeina

-

MRS Roughaya Minih

-

MRS Jemila Cheikh Ahmed

-
Partners